When your stuff breaks, you should have agency to fix it in a way you see fit. This is uncommon now, for a few reasons. Stuff has gotten much more complex and beyond most people's capacity to fix. Stuff is not being made to last anymore, because it has become cheap to produce, and purchase, new stuff instead of fixing a broken item. Lastly, and perhaps as a result, people treat stuff as black boxes and have no interest in learning how they really work, and how to judge its quality. This is especially true for modern technology like computers, smartphones and other personal devices, and most especially true for the software that makes them tick. Fortunately, there are exceptions: old technology that keeps receiving support from their manufacturer, or from a dedicated group of users who appreciate a quality product.
For my 10 year old Garmin etrex Venture HC, it's a bit of both.
Garmin makes excellent hardware. I have used the etrex a lot for surveying for OpenStreetMap, wayfinding, geocaching. It had fallen into disuse as smartphone GPSes became more usable and I generally relied less on GPS and surveying to improve OpenStreetMap. I do still use it occasionally for camping trips, because it is light (150g with batteries), runs 2 or more days on 2 AA batteries, and does exactly what I need for wayfinding out on the trail.
Garmin is not great at software. Transferring data from and to a Garmin device has always been unnecessarily confusing and difficult. As the etrex series ages, it has gotten harder to load new maps onto it. But you still can, because Garmin still has software that sort of supports this device, and there are great folks in the OSM community who maintain a web site that will churn out Garmin compatible maps on demand. There are no clear instructions on how to load these onto my specific Garmin model, so here they are, for all you dedicated / persistent etrex users.
The limitations of the etrex Venture HC are plenty. It does not have a microSD card slot (the HCx does), it does not support USB 'mass storage' mode (the HCx does) and it only has 24MB of internal memory. If you have a HCx, you can just insert a 1GB MicroSD card, put the device in mass storage mode, copy and you're off to the races. The following is specifically for the non-x models. They assume Mac versions of the Garmin software.
Head to this site to get free Garmin-compatible maps based on OSM data.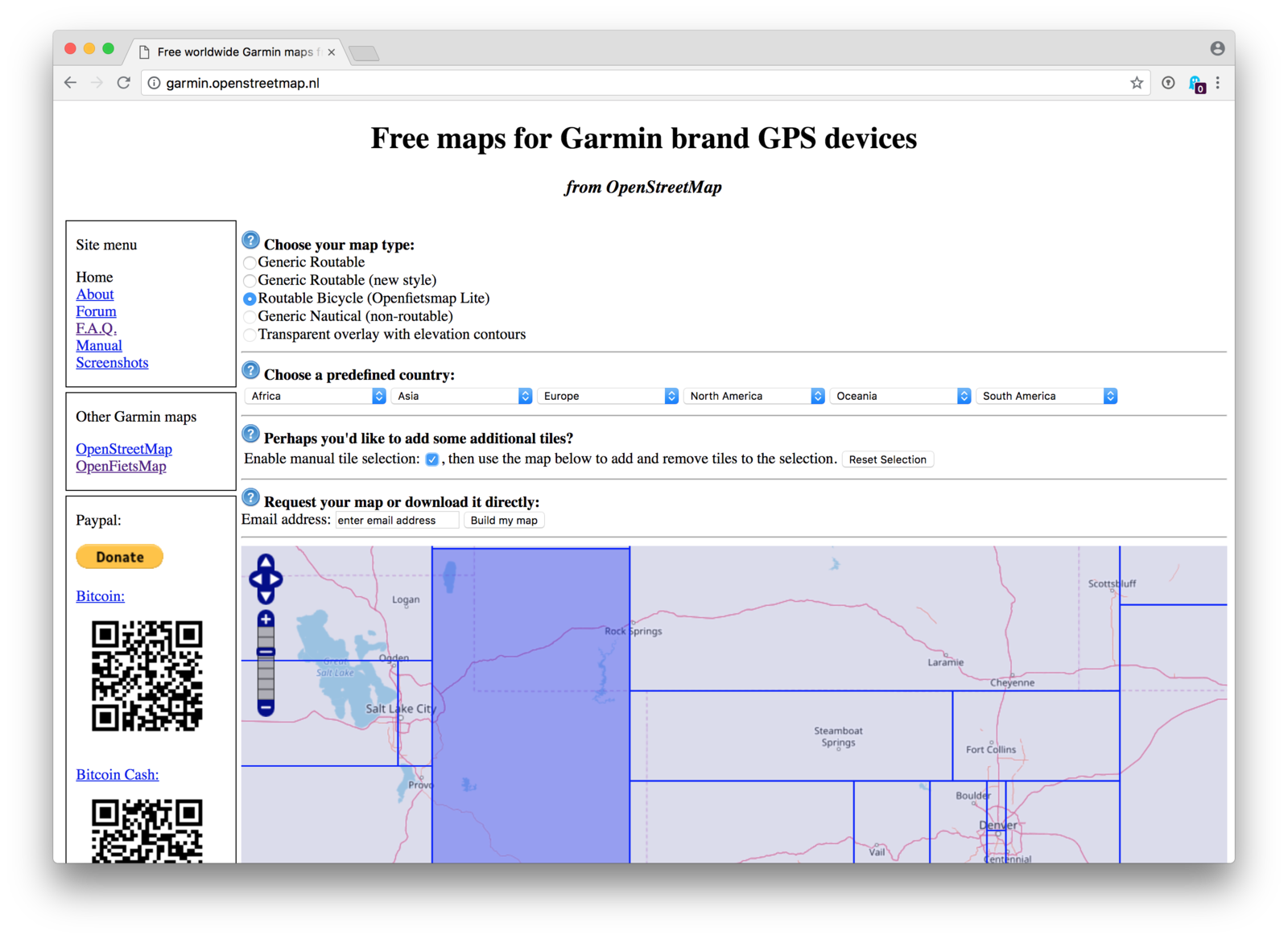 Select your map style. For outdoor use, I prefer the Routable Bicycle (Openfietsmap Lite) style.
Select your pre-cooked region from the dropdown menus or tick Enable manual tile selection. Because the etrex only has 24MB of storage for maps, you probably need to work with individual tiles.
Enter your email address and submit the request. You will get an two email messages, one giving you a web address that will tell you your place in line and an estimate of the remaining time to generate your maps.
While you wait, get Garmin MapInstall and install it.
Download the map file when ready. Choose the Mac OSX file.
Unzip the file by double-clicking it. You should end up with a directory that has a name ending in .gmap.
Open the Applications folder in the Finder. (Menu > Go > Applications) and locate the MapInstall application. Don't open it yet.
Right-click on the MapInstall app and select Show Package Contents.
Navigate to Contents > Resources.
Move the .gmap folder into this folder.
Connect your etrex to your Mac using a Garmin USB cable. (Not all normal USB cables work, in fact, I found that using a Garmin cable is pretty much essential.)
Garmin USB cables have this coil thing
Open MapInstall.
Confirm you see your Garmin device in the dropdown and continue

Confirm you now see Openfietsmap Lite in available maps.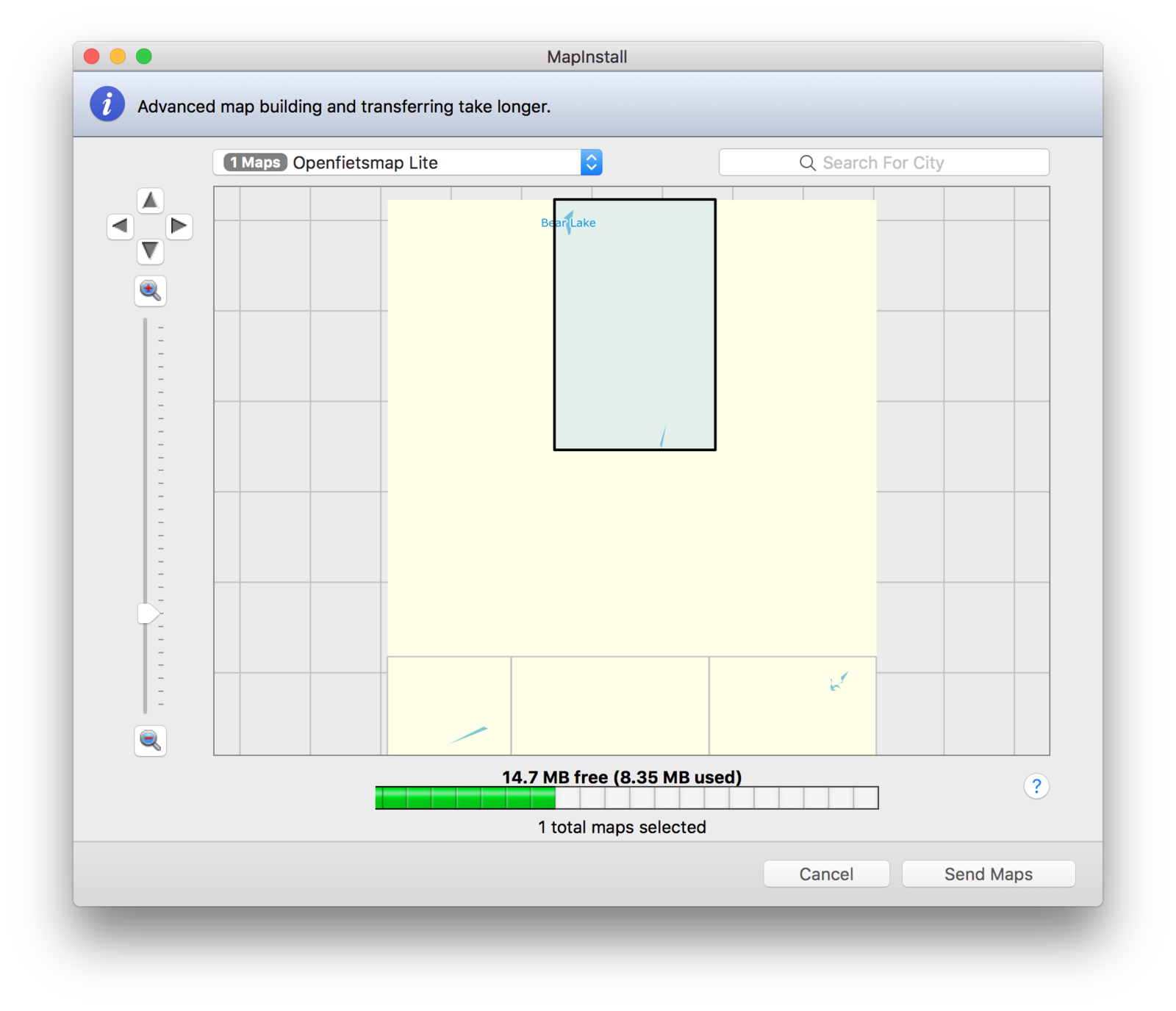 Select the map you want to transfer to your device by clicking on its extent in on the map view.
Click on Send Maps. This process will some time. It goes quicker if you leave MapInstall in the foreground. (In other words don't do anything else with your Mac.)
Enjoy up-to-date maps on your ancient Garmin etrex Venture HC!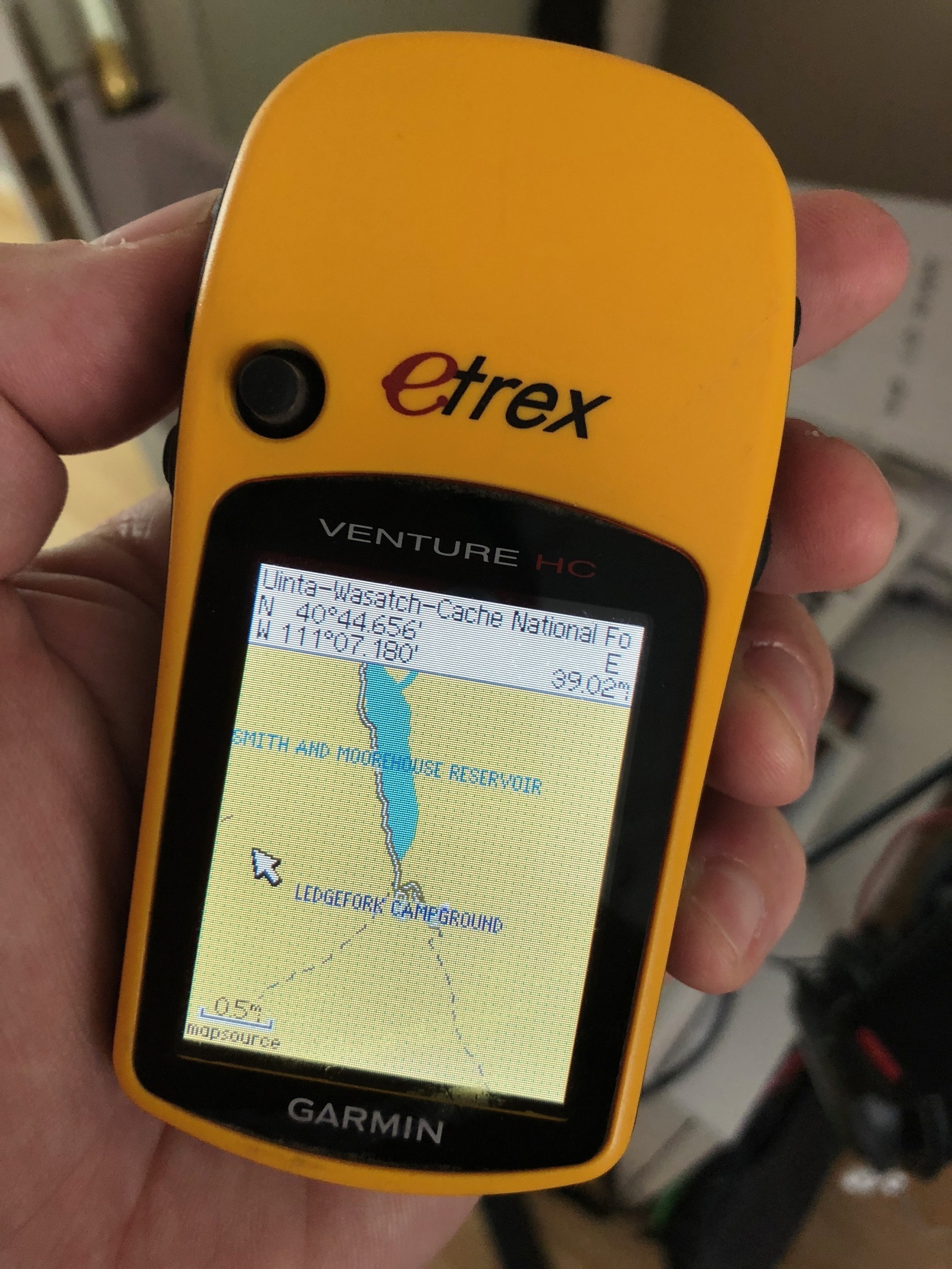 Consider donating to garmin.openstreetmap.nl if you find these maps useful. I have no affiliation with them.